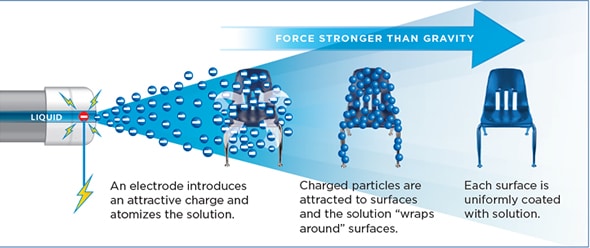 In addition to traditional commercial cleaning, we have been on the forefront of disinfecting since the start of the pandemic. We use only EPA registered EcoLab disinfectants. We do not manufacture our own products or create our own methods – we follow precisely the guidelines passed down to us from EcoLab directly. EcoLab is the global leader in water, hygiene, and infection prevention solutions and services.
We listen carefully to the needs of our clients and design a cleaning plan that best fits their needs. Sometimes that means leaving a spray bottle of disinfectant for the client's in-house team to clean their facility, and other times it requires our team to come in and handle the disinfecting.
More recently we have been disinfecting via fogging and electrostatic spraying. People often get confused between cleaning, sanitizing and disinfecting. Cleaning is the removal of debris. Sanitizing is the reduction, not killing, of organisms on a surface. Disinfecting will kill the microscopic organisms on a surface. We disinfect. The benefit to electrostatic fogging is that when the disinfectant is released, an electrode introduces an positive charge and atomizes the solution. The particles are then attracted to and aggressively adhere themselves around surfaces and objects. This method reduces the amount of time it takes to completely disinfect a space by up to 50%, making it an extremely effective cleaning method. Areas are safe to return to 10 minutes after disinfecting occurs.